Islander Bahama 28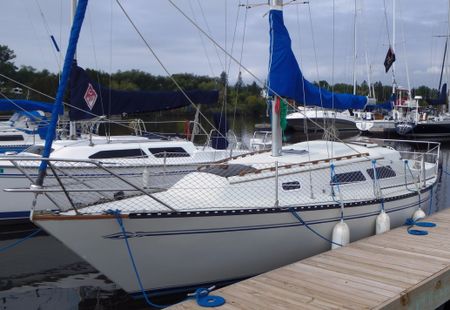 The Islander Bahama pocket sailboat is a beautiful boat with a five-and-a-half-foot draft and 3,300 pounds of ballast. The sails track well and respond smoothly to the helm. The unusually tall beam (10 feet) are broad for a small boat like the Islander Bahama 28 but make for a fast boat which is also stable in the breeze and light air.
The interior is modular with teak components (which were fabricated in a mill and assembled off the boat). It was then installed just before the deck was fitted.
The interior is made of stained-oak countertops with a saloon table and whicker-fronted teak doors for the cabinets.
The Bahama models are known for their U-shaped galleys with the icebox located aft, a stovetop in the middle, and a sink facing the folding saloon.
The standard models of Islanders normally have an L-shaped galley with the sink in the aft.
Owning a small boat can be great. There are plenty of advantages of owning a medium to small-sized boat:
Cheaper rack fees for storage
The option of storing it on your property
Smaller boat = smaller trailer = smaller vehicle needed for transport
Much more affordable than a larger boat
Easier to clean
However, there are also specific problems that come with owning a smaller boat, including:
Small craft warnings – when you're in a smaller boat out on the rough water, you'll end up running into much more trouble than larger boats.
Small deck space – when you need or want some crewman with you on a small boat, there's more of a chance that there will be an accident because there isn't much room to work with.
On a bigger boat, you'll have more room for emergency equipment. On a small boat, there should be plenty of room for the necessities when it comes to emergency gear. The chances that you'll need power anchor windlasses, dinghy lifts, bow thrusters, and stabilizers aren't as big when you're in your small vessel (in calm waters). However, it's convenient to have the bigger emergency equipment if something does happen.
Final Thoughts:
When you decide to buy a new boat, it can be like buying a car. It's exciting, nerve-wracking, and it can also be expensive. But it doesn't have to be.
Make a list of the amenities you want, as well as a list of prices:
What are you going to use your boat for? Which amenities do you need for those activities?
What is the highest price you will go (including all of the extra fees and taxes)?
How much do you have for annual fees? Insurance, slip or rack rental, etc.
What is your ideal (realistic) price for the boat itself (including engine and trailer)?
If you want to look into used boats out of here, make sure you set aside a little money for a marine specialist. This person can look at the boat to make sure it is sound and seaworthy. Not to worry, At Omega water marine, our specialists do all the necessary inspections to make sure you get just the best delivered to you even at the comfort of your home.
Often, just the peace of mind is worth the price.