2021 Mercury 400R for sale – 25 in. Shaft – Powerful
$41,600.00
2021 Mercury 400R for sale – 25 in. Shaft Twin outboard Motors
– Twin 2021 Mercury 400R Outboard Motors for sale – 25 in. Shafts
– State: Used
– Hours on Clockwise: 32
– Hours on Anti-Clockwise: 38
– Gearcase: Sport Master
Warranty: 4 -years remaining warranty .
Sale price includes prop, Smart Craft gauges and mercury DTS controls.
Price includes a free freight quote within the mainland USA.
| | |
| --- | --- |
| HP / kW | |
| Engine type | |
| Displacement (L) | |
| Full throttle RPM | |
| Air induction | Supercharged with Cold Air Intake and charge air cooling and electronic boost pressure control |
| Fuel induction system | Sequential Multi-Port Electronic Fuel Injectin (EFI) |
| Alternator amp / Watt | 70 amp / 882 watt (Belt-Driven) |
| Fuel Requirements | Recommended Unleaded 91 Octane Minimum Unleaded 89 Octane |
| Recommended oil | Mercury Racing 25W-50 NMMA Certified FCW 25W-50 Synthetic Blend |
| Oil Capacity | |
| Engine protection operator warning system | SmartCraft Engine Guardian |
Compatible with SmartCraft digital technology
Starting

Electric (Turn-key) with SmartStart

Controls
Steering

Electro-hydraulic power steering Joystick Piloting for Outboards

Shaft length

20″ / 508 mm
25″ / 635 mm
30″ / 762 mm

Gearcase ratio
Gearcase

5.44″ Offshore HD Sport Master in straight, left and right camber

Dry weight *Lightest model available
CARB star rating
Gearcase options
Trim system

Power trim and tilt with SmartCraft programmable tilt

Counter Rotation

Available in both gearcases

Dry Weight*
Shaft Length

20″ / 508mm
25″ / 635mm
30″ / 762mm

Alternator AMP

70 AMP / 882 Watt (Belt-Drive)

Color

Phantom Black
Cold Fusion White

Warranty

3-Year Limited for recreational boating
3-Year Limited Corrosion warranty.
2021 Mercury 400R for sale – 20 in. Shaft.
Description
2021 Mercury 400R for sale – 25 in. Shafts
2021 Mercury 400R for sale – 25 in. Shaft Twin outboard Motors
EXCLUSIVE FEATURES
Go Boldly with aggressively styled cowls sculpted out of lightweight, carbon fiber
The water-cooled supercharger utilizes the engine cooling system to cool the supercharger, resulting in increased performance and durability
The Dual Overhead Cam (DOHC) and multi-port fuel injection design evokes Mercury Racing's flagship QC4v sterndrives with four valves per cylinder and a 7,000 RPM redline for unmatched performance
World class knock system allows the 400R Carbon Edition to run on 89 Octane when the recommended 91 Octane fuel is unavailable
Straight-cut Sport Master model gearcases feature a crescent leading edge gearcase design with surface piercing skeg and low-water pickups to minimize drag and maximize boat performance
Some Sport Master gearcases feature a cambered skeg designed to counteract propeller torque for better handling and overall performance in single engine and Joystick Piloting boats
Available Joystick Piloting for Outboards provides maximum control for multi-engine boats by combining throttle, shift and steering into one easy-to-use joystick for precise maneuvers at low speeds
Available in 20, 25 and 30 inch shaft lengths for a variety of high performance applications
Select models come equipped with a factory installed rear tie bar kit. The kit includes custom rear engine mounts and a heavy duty, stainless steel tie bar wing plate. Tie bar not included.
Backed by a standard 3-year factory and 3-year limited corrosion warranty

2021 Mercury 400R for sale – 20 in. Shaft BOAT APPLICATIONS
The 400R Carbon Edition is designed specifically for the lightweight hulls engineered for maximum performance and speed
OFFSHORE CENTER CONSOLE

PERFORMANCE CATAMARAN

PERFORMANCE VEE BOTTOM

BAY BOAT

BASS BOAT

MULTI SPECIES

PERFORMANCE PONTOON/DECK BOAT
2021 Mercury 400R for sale – 20 in. Shaft
| | |
| --- | --- |
| Horsepower | 400 HP |
| Full Throttle RPM | 6400-7000 |
| Displacement | 2.6L |
| Cylinders | Inline 6-Cylinder |
| Fuel System | Sequential Fuel Injection Electronic Fuel Injection (EFI) |
| Gearcase Options | 5.44"HD Gearcase 1.75:1 Gear Ratio Sport Master Gearcase 1.75:1 Gear Ratio |
| Weight (lbs/kg)* | 668 lbs (303 kg) |
*Lightest model available.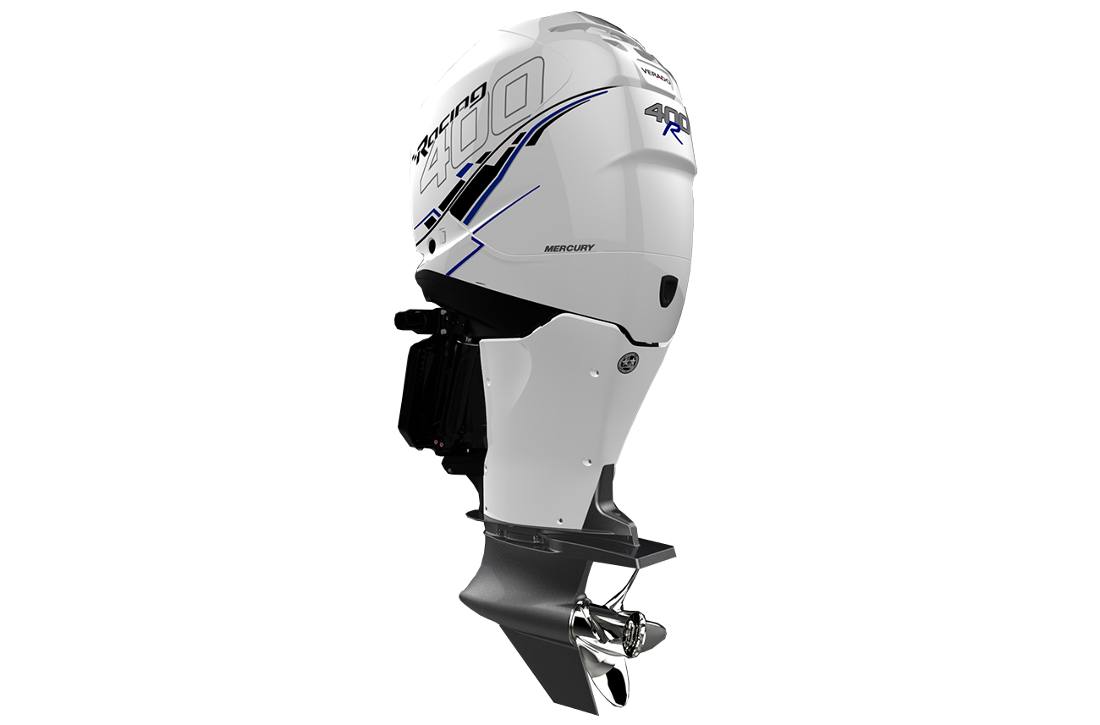 2021 Mercury 400R for sale – 20 in. Shaft
The Mercury Racing 400R is a thoroughbred. The motor that created the high-performance outboard category is assembled with premium, system-matched components; tuned with mission-specific calibrations; tested in the lab; and proven in the field to deliver bullet-proof reliability and incredible efficiency. Drop the throttles to experience immediate hole-shot muscle, blistering acceleration and blazing top speed that keeps on climbing all the way to 7000 rpm. Unleash your Wide Open.
2.6L SUPERCHARGED FOURSTROKE
The slim 2.6-liter six-cylinder in-line powerhead is amplified by a supercharger system that boosts performance across the rpm range. The high performance cylinder head features dual overhead camshafts for optimal combustion control and deep- breathing airflow all the way to 7000 rpm.
2021 Mercury 400R for sale – 20 in. Shaft SUPERCHARGED
A supercharger system amplifies performance across the RPM range for immediate throttle response and extraordinary power.
2021 Mercury 400R for sale – 20 in. Shaft RPM RANGE
Get dialed in. A 6400-7000 rpm wide-open throttle operating range and a 1.75:1 gear ratio combine to offer a wide window for propping options.
ADVANCED MIDSECTION (AMS)
The Mercury Racing Advanced MidSection (AMS) isolates the powerhead from the transom to ensure run quality is smooth and quiet at all speeds and enables optional Joystick Piloting for Outboards.
2021 Mercury 400R for sale – 20 in. Shaft COMPATIBLE GEARCASES
1- SPORT MASTER
The Sport Master gearcase offers heavy-duty durability for boats that travel in excess of 85 mph, with low-water pick-ups and a crescent leading-edge design that maximizes efficiency and speed.
2- 5.44 HD
The 5.44 HD gearcase was designed and engineered by Mercury Racing for the most demanding offshore environments and features a larger 5.44″ diameter torpedo that provides extra lift for heavier boats. This is a highly durable gearcase for heavier center consoles, walkarounds, pontoons and deckboats.