Mercury Verado 400HP For Sale 2.6L Supercharged L6 30″ Shaft
Mercury Verado 400HP For Sale 2.6L Supercharged L6 30″ Shaft
Engine type: Inline 6
Year: 2022
Displacement: 158.5 CID (2.6 L)
Cylinder Configuration: Inline 6 with Dual Overhead Cam [DOHC] and 24-valves
Full throttle RPM: 6200-6800
Alternator: Belt-Driven: 70 amp (882 W)
Starting: Electric Start with SmartStart Protection
Steering: Electro-hydraulic power steering Joystick Piloting for Outboards
Shaft length: 30″ (762 mm)
Gearcase ratio: 1.75:1
Dry weight: Lightest model available: 668 lbs (303 kg)
Trim system: SmartCraft programmable trim and tilt
Warranty: 3+3 = Six-Year Warranty.
Stock: Available in stock.
Motor comes with controls, gauges and a propeller.
Description
Mercury Verado 400HP For Sale 2.6L Supercharged L6 30″ Shaft
-Warranty: 3+3 = Six-Year Warranty
-Stock: Available in stock
-Motor comes with martCraft. The Power To Do More.
SmartCraft® is a full suite of digital technologies, fully integrated and totally coordinated. Gauges, sensors, vessel systems, computer-controlled features – one total package, one high level of control. Make your boating experience easier, safer and a lot more enjoyable. Get smart.
Mercury Verado 400HP For Sale – 4.6L V8 and 2.6L Supercharged L6
Mercury Verado® engines represent the pinnacle of superior outboard design and performance. Verado engines boast advanced engineering and refined operation for boat owners who refuse to compromise. Every Verado feature is designed to deliver the ultimate, most satisfying on-water experience.
Mercury Verado 400HP For Sale – Intuitive, Innovative Features
Exceptionally Smooth & Quiet
The Advanced MidSection (AMS) moves engine mounts aft and outward to virtually eliminate vibration. Engine noise is minimized by a tuned multi-chamber air intake, fuel-injector covers that decrease high-frequency noise and a highly engineered cowl sealing system.
Effortless Operation
Verado outboards come standard with SmartCraft® Digital Throttle & Shift (DTS) for ultra-smooth shifting, instantaneous throttle response, as well as electro-hydraulic, automotive-style power steering that provides precision handling.
Joystick Piloting
Joystick Piloting for Outboards offers fingertip control of throttle, shift and steering, so you can dock and maneuver precisely, safely and with confidence. Move sideways, diagonally or spin the boat on its own axis with total control in wind or current.
Adaptive Speed Control
Adaptive Speed Control on V8 Verado outboards automatically maintains the set rpm even as load or conditions change, with no adjustments to the throttle lever position – a first for the outboard industry.
Advanced Sound Control
Change the exhaust tone of a V8 Verado outboard with industry-exclusive Advanced Sound Control. The dual muffler system allows users to toggle between an ultra-quiet mode and a deeper, sportier tone.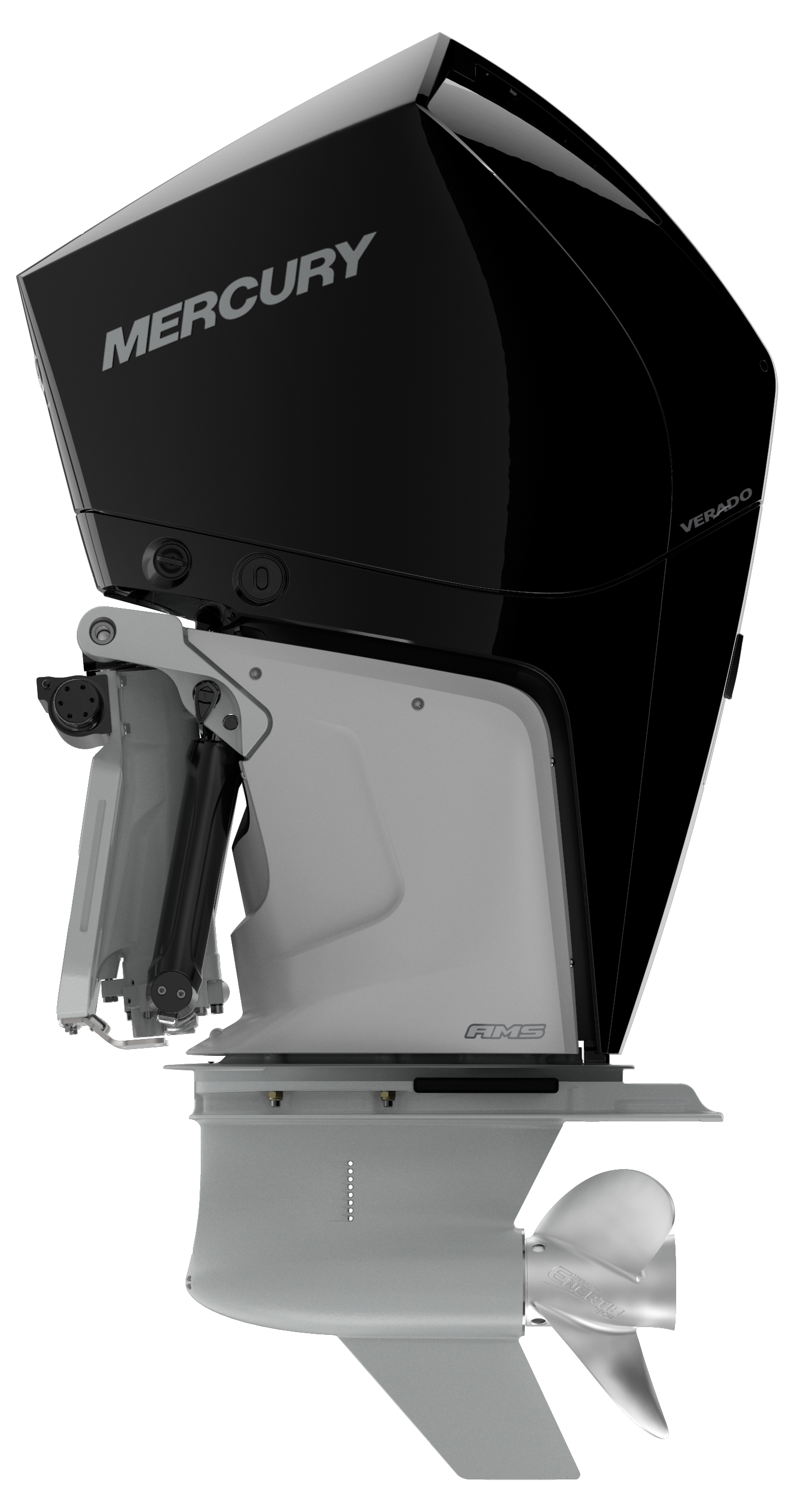 Mercury Verado 400HP For Sale – Verado Performance Data
Refined Power
V8 Verado outboards generate ample torque from class-leading 4.6L displacement. Supercharged power from the 350 and 400hp L6 Verado outboards delivers instant throttle response.
Superior Fuel Economy
Advanced Range Optimization on V8 Verado outboards improves cruise-speed fuel efficiency by automatically adjusting fuel delivery so seamlessly the operator won't feel or hear it.
Quiet & Smooth
The V8 and L6 Verado outboards, both establish an industry benchmark for smooth and quiet operation. The engines are quiet at idle and cruise with significantly less vibration.
Verado Advantage
Legendary Power: The 2.6L Supercharged L6 torque hits the instant you drop the digital throttle. Tuned to power heavy offshore boats out of the hole and over the swell, these engines have the legs to fly.
Smoother and Quieter: Verado engine designs virtually eliminate transmission of vibration to the boat, and acoustic engineering means the neighbors won't hear you leave, and the fish won't hear you coming.
Reduced Fuel Cost: Verado outboards deliver superior fuel economy at cruising speed and wide-open throttle. The engine precisely adjusts the fuel mixture and delivers the best possible efficiency at any speed.
Corrosion Resistance: Not only are Verado outboards designed and built to withstand the rigors of saltwater operation, but also they're backed by a three-year corrosion warranty.
Engine Specifications by Horsepower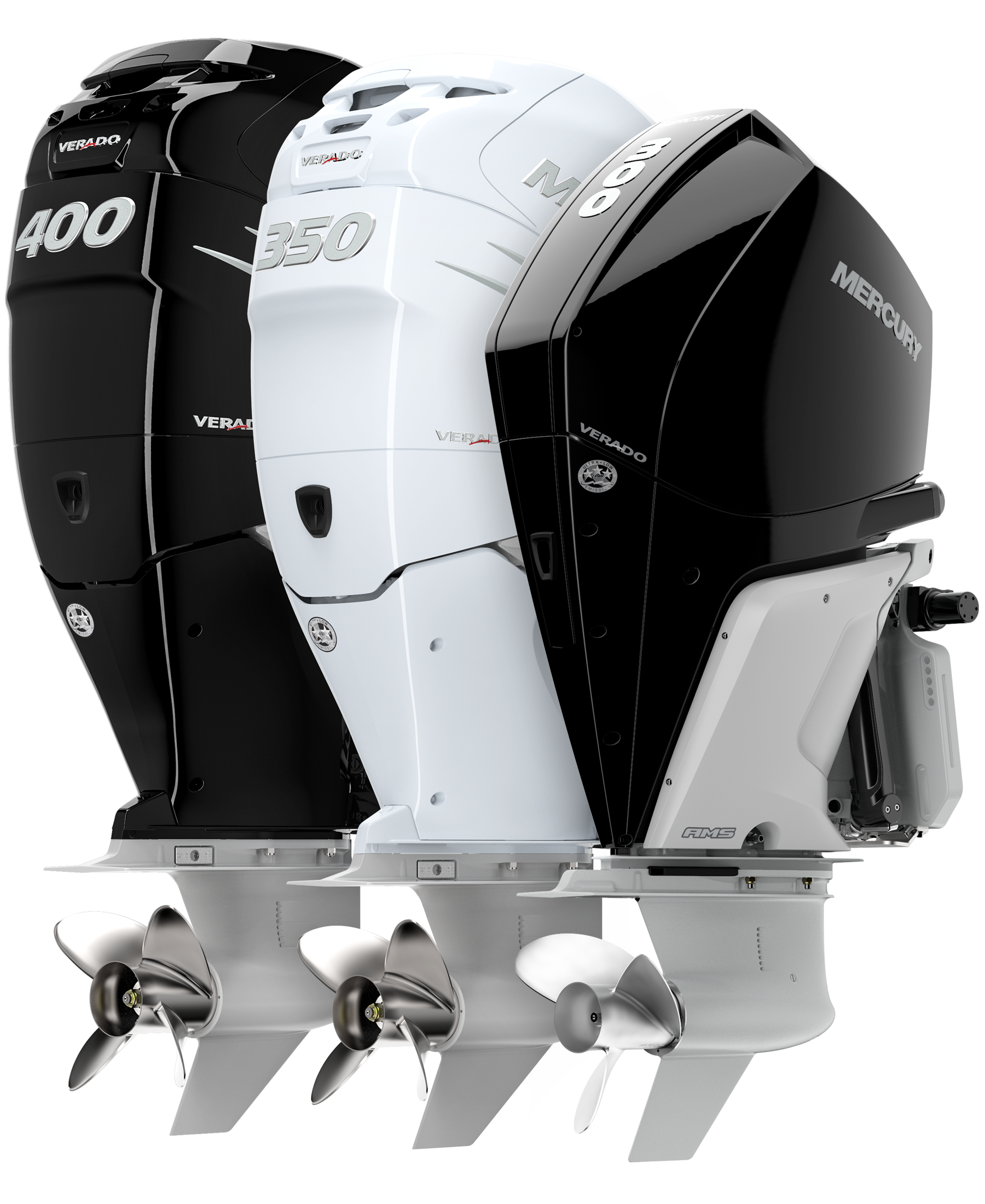 Horsepower

400

350

300

250

Engine type
Displacement (CID/CC)
Displacement (L)
Cylinder Configuration

Inline 6 with Dual Overhead Cam [DOHC] and 24-valves

Inline 6 with Dual Overhead Cam [DOHC] and 24-valves

V-8 [64 degree] with Dual Overhead Cam [DOHC] and 32-valves

V-8 [64 degree] with Dual Overhead Cam [DOHC] and 32-valves

Full throttle RPM
Alternator amp / Watt

70 amp / 882 watt (Belt-Driven)

70 amp / 882 watt (Belt-Driven)

115-amp (1449 Watt) with Idle Charge

115-amp (1449 Watt) with Idle Charge

Starting

Electric Start with SmartStart Protection

Electric Start with SmartStart Protection

Electric Start with SmartStart Protection

Steering

Electro-hydraulic power steering
Joystick Piloting for Outboards

Electro-hydraulic power steering

Electro-hydraulic power steering
Joystick Piloting for Outboards

Electro-hydraulic power steering
Joystick Piloting for Outboards

Shaft length

20″ / 508 mm
25″ / 635 mm
30″ / 762 mm

20″ / 508 mm
25″ / 635 mm
30″ / 762 mm

20″ / 508 mm
25″ / 635 mm
30″ / 762 mm

20″ / 508 mm
25″ / 635 mm
30″ / 762 mm

Gearcase ratio
Dry weight *Lightest model available
Trim system

SmartCraft programmable trim and tilt

Power trim and tilt with SmartCraft programmable tilt