Seven Marine 627 Outboard – The world's most powerful outboard engine
Seven Marine 627 Outboard – The world's most powerful outboard engine.
Marine-specific LED lights are embedded in a silicone jacket protecting them from the harsh marine environment. Seven's lights are completely waterproof and their patent-pending design shields the LEDs from the sun's harmful rays, ensuring longevity.
Description
Seven Marine 627 Outboard – The world's most powerful outboard engine
High Detailed and realistic 3d model of Seven Marine 627 sv Power Outboard Motor.
Topology of geometry:
– forms and proportions of The 3D model most similar to the real object
– detailed enough for close-up renders
– the geometry of the model was created very neatly
– there are no many-sided polygons
– the model optimized for meshsmooth modifier
– Not collapsed the meshsmooth modified
– details which need smoothing, are designated by a prefix of 'SM2'
– details with prefix 'NS' are ready and does not needed smoothing modifiersMaterials and Textures: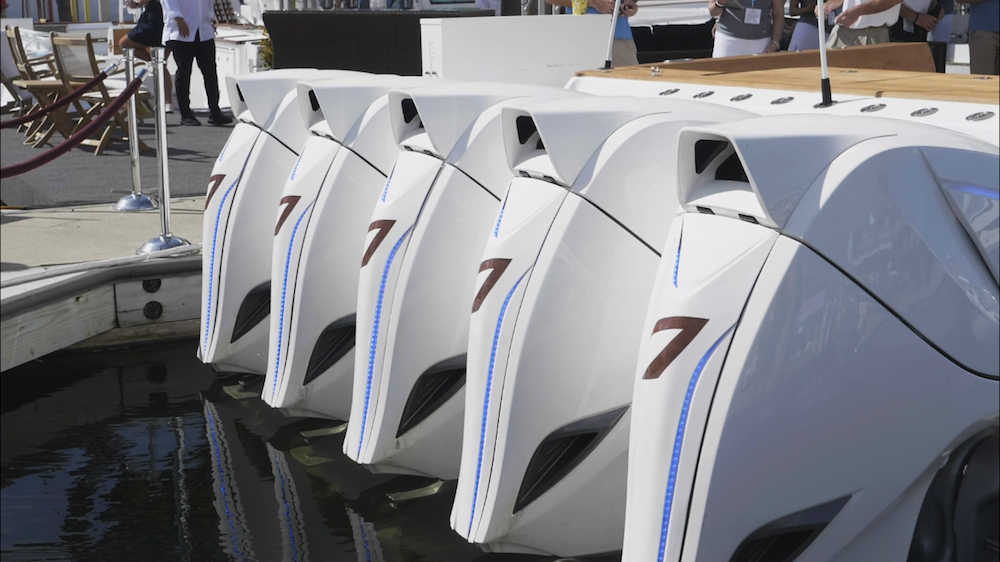 – 3ds max files included Standart materials and Vray-Shaders
– large size textures with layers (*.tiff) included
– 4096*4096pix
– all textures paths are cleanedOrganization of scene:
– to all objects and materials names in scene are appropriated
– real world size (system units – mm)
– coordinates of location of the model in space (x0, y0, z0)
– does not contain extraneous or hidden objects (lights, cameras, shapes etc.)File Formats:
– original file format – 3ds max 2009 + Vray
– 3ds max with standard materials
– 3ds, obj, fbx (Multi Format)
– Cinema 4D and Maya – exported with standard materialsRenders:
– all previews rendered 3ds max Vray
– the model is completely ready for use visualization in 3ds max + Vray
– realistic render (*.tiff format with alpha channel) included
SpectraBlade Cowl
All aesthetic factors of an outboard powered boat are impacted by the design of the power plants they carry. Seven has already introduced custom paint in the production outboard world, and now with the Spectra-Blade design is taking outboard styling to a new level. The sleek new look of the SpectraBlade advances cowl design and style. The new blade elements sculpt a unique profile creating more possible color combinations than ever before. This new design defines the cutting edge in the industry for style, customer individuality and luxury, all while allowing the installation of subliminal LED lighting.
Integrated Cowl Illumination
Who can deny the positive ambiance that is created through the ingenious use of LED lighting in our homes, cars and boats? Seven proudly brings light to the production outboard motor. With 615 LED lights creating the full spectrum of over 16,000,0000 colors to suit the customer the 627's SpectraBlade cowl comes alive, looking as good at night as it does by day.